A bold new biography of the surgeon and activist whose fame in China makes him the best-known Canadian in the world.
Listed as one of the best non-fiction books of the year by the Toronto Globe and Mail. Short-listed for the Canada Prize 2012. Translated and published in Spain as Las Vidas del Dr. Bethune, Ediciones Universidad Salamanca, 2011. Translated into Chinese as Businiao: Baichuende Yisheng, China Youth Publishing House (Beijing) in 2014.
Phoenix The Life of Norman Bethune by Roderick Stewart and Sharon Stewart
Montreal: McGill-Queens University Press, May 2011 ISBN 9780773538191
Restless, dynamic, conflicted, a surgeon, an artist, and a writer, Norman Bethune was an extraordinary Canadian. Brilliant, yet erratic, Bethune led a life characterized by cycles of achievement and self-destruction and his adventurous spirit led him from the operating rooms of Montreal to the battlegrounds of Spain and China.

In Phoenix The Life of Norman Bethune Roderick and Sharon Stewart provide the intriguing details of Bethune's controversial career as a thoracic surgeon, his turbulent personal life, his passionate crusade to eradicate tuberculosis, his pioneering commitment to the establishment of medicare in Canada, and his creation of a mobile blood transfusion unit during the Spanish Civil War. They also examine the reasoning that led Bethune to embrace Marxism and show the depth of his faith in the triumph of communism over fascism - a commitment that drove him to take risk after risk and ultimately led to his death from an infection contracted while performing battlefield surgery with his mobile surgical unit in northern China during the Sino-Japanese War.

Based on extensive research in Canada, Spain, and China, and in-depth interviews with Bethune's family, friends, colleagues, and patients, Phoenix: The Life of Norman Bethune is the definitive Bethune biography for our time.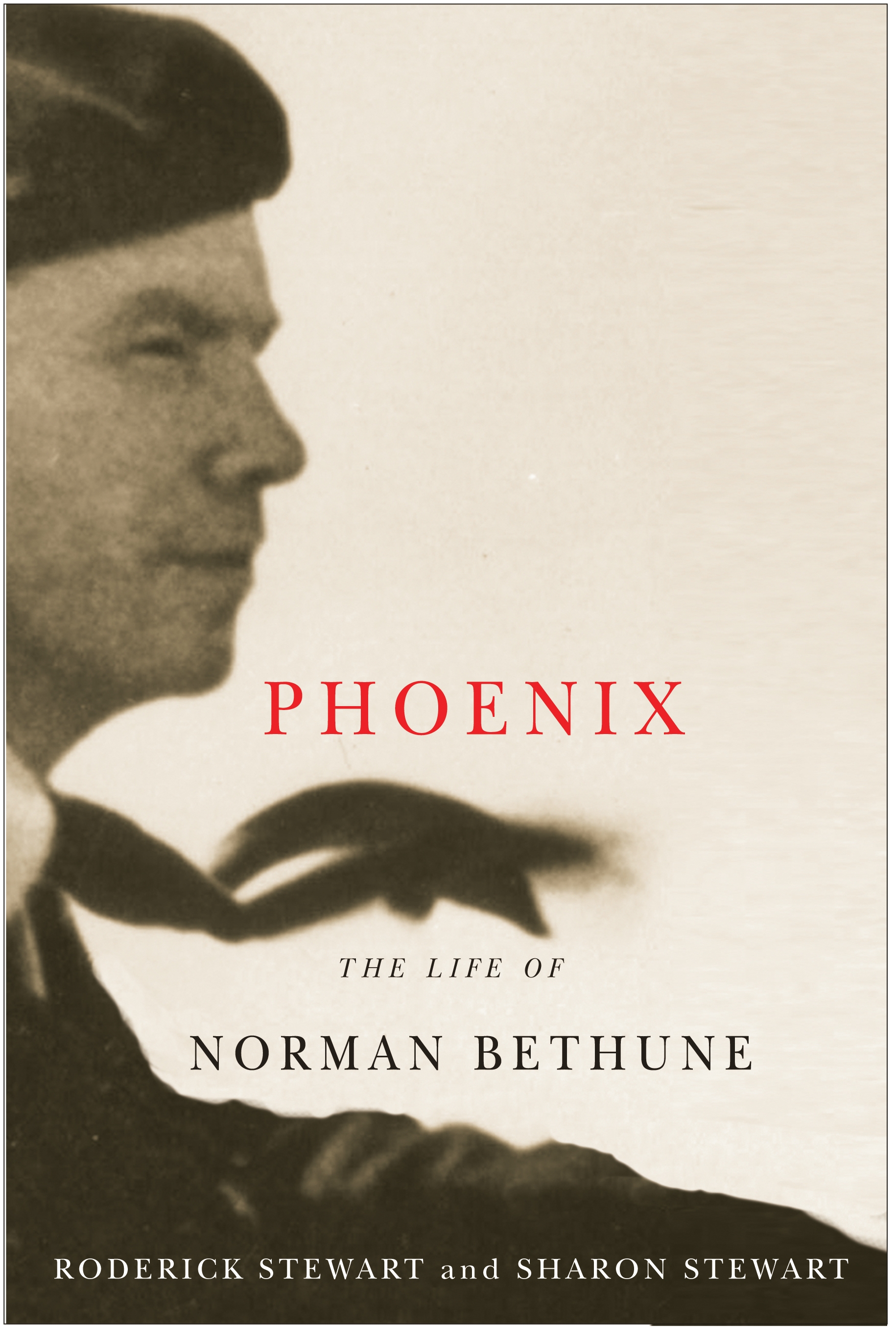 Praise for Phoenix
Rock solid and riveting...Phoenix is an outstanding biography that establishes Norman Bethune, once and for all, as an extraordinary healer and humanitarian, a Canadian who wanted to change the world and who willfully walked on the hot coals of despair and rejection in order to accomplish that." Ann Cimon, Canada's History
A masterful biography....an extremely engaging--at times enthralling--page-turner." Alan Filewood, Canadian Literature
[Roderick Stewart and Sharon Stewart's] well-written, exhaustive and highly readable Phoenix: The Life of Norman Bethune should become the definitive basis for all serious discussion of Bethune. Because the book is so thorough and so objective, it will spark a more informed debate about the meaning of his career." Michael Bliss, The Globe and Mail
Phoenix is a finely balanced biography - likely to stand as the definitive account of Bethune's life - painting a complex portrait of a man equal parts narcissist and humanitarian." Tod Hoffman, The Montreal Gazette

An exquisitely written and impressively researched work." Geoff Lambert, Winnipeg Free Press

Phoenix is a much enriched version of Bethune's life - eminently readable and riveting." Andrée Lévesque, McGill University

Through their meticulous and unbiased research, Roderick and Sharon Stewart have developed a profound acquaintance with Norman Bethune, providing a detailed portrait of one of Canada's most complex and least understood characters." Scott Davidson, Bethune Memorial House National Historic Site

At long last, the whole Bethune - flaws and contradictions intact, making the extraordinary accomplishments of this troubled and near tragic figure all the more remarkable to unravel. I was riveted, from beginning to end." Ken Gass, Artistic Director, Factory Theatre

"Readable and highly detailed." Michael Carbert, Montreal Review of Books
"Exhaustively researched and cogently written with a measured and balanced tone." Christine Xu, China Daily
"A fabulous example of what a pair of tireless biographers can accomplish." Ronald J. Jack, Runagates Blogspot